| | |
| --- | --- |
| | 2020 |
| | |
| --- | --- |
| | 2019 |
| | |
| --- | --- |
| | 2018 |
| | |
| --- | --- |
| | 2017 |
| | |
| --- | --- |
| | 2016 |
| | |
| --- | --- |
| | 2015 |
| | |
| --- | --- |
| | 2014 |
How can I keep from singing?

Covid-19 and our 2020 programme
March to December 2020

The choir were only twenty days away from their eighty-fifth anniversary concert when the lockdown was declared in England, and all of our live choral activities came to a halt. In 2020 we therefore lost our first ever performance of Beethoven's Missa solemnis, a performance of Bach's St John Passion with English Touring Opera, a performance of Bruckner's Mass in E minor alongside his ever-popular motets, and a visit to sing Choral Evensong in Southwell Minster. The two final events of the year - a performance of Handel's Messiah and a Christmas Concert with Rushden Town Band have been rescheduled for 2021. The choir is committed to creating space in our 2022 and 2023 plans to perform the Bach, Beethoven, and Bruckner, which we lost.


Whilst we were not able to sing any live concerts in 2020 (our only "performance" was Choral Evensong at Christ Church Cathedral, Oxford, in January, and its associated "dry run" Choral Evensong at St Matthew's Church, Northampton, the night before), our Musical Director quickly geared us up for Zoom singing, and we explored music which was quite unlike what we would normally sing. We may have been separated, but we were not silenced.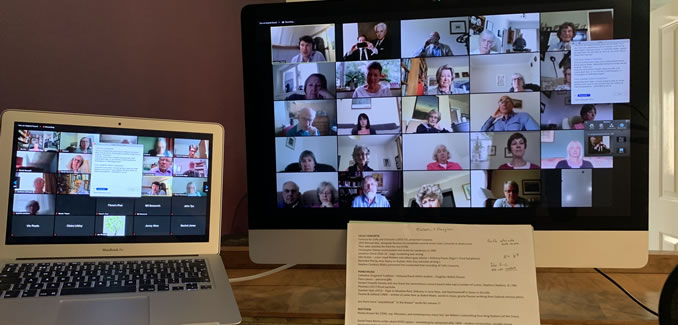 A whole sequence of songs by Herbert Howells was our mainstay of the summer term, with additional Zoom session with experts in Howells's music - including academics, conductors, instrumentalists, and singers - and in the autumn term we continued to expand our Howells repertoire, though our principal focus was on Italian music of the late seventeenth and early eighteenth centuries - by Corelli, Leonarda, and Vivaldi.
Full details of what we achieved in these unprecedented circumstances may be found in the various news items of 2020